2022 Energy Revealed Challenge Showcase
Kilowatt Hours of Energy Conserved
g of Greenhouse Gas Emissions Conserved
The Energy Revealed Challenge
This hands-on challenge tasks learners with hosting and tracking the impact of their own School Earth Hour event. Through the activities and lessons in GreenLearning's Energy Revealed Program, learners become energy managers and explore firsthand how conserving energy and energy efficiency are important for a sustainable future.
Challenge Winners
Chris Hadfield Public School, Grades K-8
Milton, Ontario
Under the leadership of the Senior Eco-Hawks, Chris Hadfield PS (CHPS), the defending champions of the Energy Revealed Challenge, had an All Day Earth Hour Plan to conserve energy that was bigger than ever. Engaging over 1,050 students, community members and staff in several initiatives, CHPS was able to conserve 202.47 kWh of energy, which is equivalent to 88kg of greenhouse gas emissions conserved!

Conserving enough energy during last year's School Earth Hour to charge over 12,000 cell phones sparked conversations among the Senior Eco-Hawks about the "attachment to [their] phones" and how much energy they use. This led to the development of the new Next Level NO Phone Friday Challenge, which tasked all intermediate students at CHPS to not use their phones for an entire day. The new challenge was a huge success, surpassing their goal with over 80% of intermediate students not using their phone for the day. The no-phone games and activities used during the Next Level No Phone Challenge have continued beyond Earth Day throughout the school year.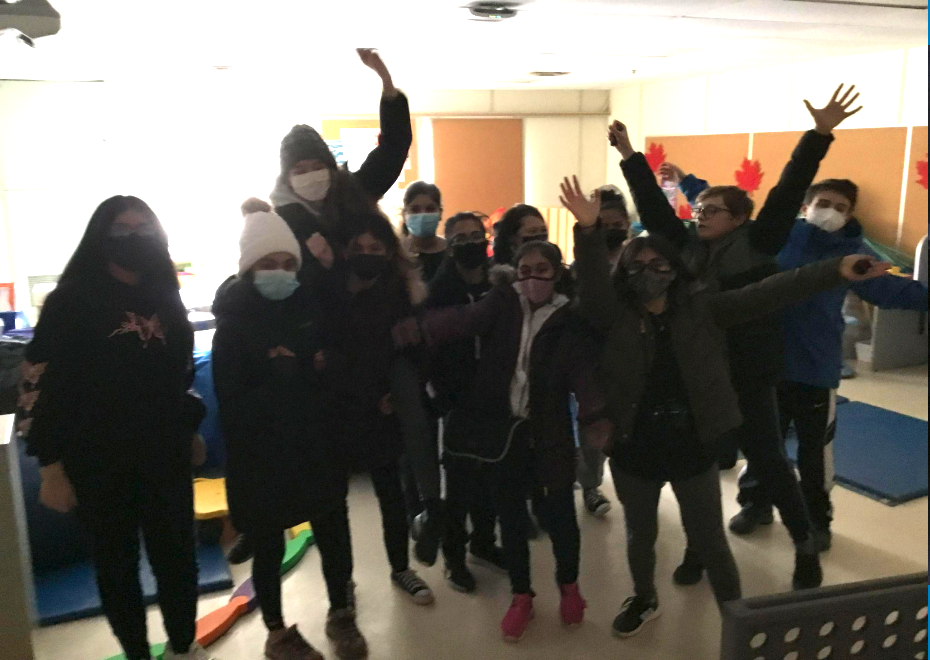 Energy saving actions didn't end with the intermediate students. Students from Kindergarten to Grade 8 and their teachers were encouraged
, through posters, announcements and a social media campaign, to bring in tech free activities, such as board games, and actually talk to each other during Earth Hour. They were educated through various learning opportunities, including a presentation by the Milton Hydro Distribution Inc. to conserve energy in various ways, including: unplugging all unnecessary electronics, such as printers and radios, turning off all of the hallway and classroom lights, and learning tech-free for the day. This resulted in many great conversations among students, increased use of the outdoor classroom, gardens and forest areas of the school and new resources being shared among teachers.
In addition to encouraging other to bring in tech-free activities, the Senior Eco Hawks organized a number of fun and engaging activities to lead classes through during the event. They included games such as tic tac toe, a beanbag toss, musical chairs and more!

While their school nearly doubled in size and added 10 portables since last year, they were still able to conserve an impressive 16% of their energy on the day of the event compared to the average school day. This translates to almost 4 bags of trash, over 10,600 smartphones charged and almost one and a half trees absorbing carbon for an entire year!
Waterloo Collegiate Institute, Grades 9-12
Waterloo, Ontario
As part of an inter-school Eco-Comp Challenge, the WCI EcoClub hosted a Turn It Off Thursday event, which engaged about 50 classes in saving an estimated 62 kWh, equivalent to amount of greenhouse gases absorbed by 59 trees in a year!

In addition to the over 50 classes participating in Turn If Off Thursday, students reached out to the Waterloo District School Board's Supervisor of Energy Conservation for support. The Supervisor of Energy Conservation was able to provide the WCI EcoClub with guidance and ideas on ways to efficiently conserve energy at school and provided them with the real-time energy use of their school for the day of their event.

In addition to school announcements and a successful Instagram campaign to promote a variety of energy saving action for their event, the WCI EcoClub have created energy checklists, which they'll email to teachers before long school breaks, such as March Break or summer holidays, to build energy saving habits all year long. Check out their checklist of items to turn off and/or unplug:
All speakers are turned off and unplugged
Unmounted projectors are unplugged
Any chargers unplugged
All lights are off
The thermostat is clear of obstructions and turned down
Blinds are closed
If you use power bars, ensure they are turned off and unplugged
Space heaters are turned off and unplugged
The WCI EcoClub's leadership and initiative on climate action did not go unnoticed. In addition to sharing the media they prepared with other groups in the inter-school competition, the WCI EcoClub was featured in a news article in the Community Edition, titled
WCI Students Advocate Energy Usage Awareness for Earth Week
.
Reflecting on their experience participating in the Energy Revealed Challenge, one member of the WCI EcoClub said:
"It's easy for staff and students to be lazy about conserving energy, such as not taking the time to turn off the lights or close the windows at the end of the day, as we tend to think one small action will not make much of a difference. However, this challenge has shown us that when many people make a habit of those small actions, the energy savings can be significant!"
Renert School, Grades 4-6
Calgary, Alberta
After learning about electricity use and energy conservation, Ms. Kim and Ms. Haney's students challenged each grade 4-6 homeroom in their school to conserve energy for their School Earth Hour event. Renert School hosted an exciting event with several hands-on learning components that resulted in 9kWh of energy and 2kg of greenhouse gas emissions conserved during their Earth Hour event.

On the day of their Earth Hour Event, students and teachers participated in the following series of events:
Students completed an electricity survey titled What electricity have you used today? in their homerooms.
Each homeroom elected an ENERGETIC Representative as their classroom lead for the event.
Students attended an Earth Hour presentation by the Eco-Team to learn all about electricity.
Homerooms then completed a classroom energy audit using handheld watt meters.
Students completed a series of worksheets and puzzles as they explored electricity around their classroom and returned them to the Eco-Team for evaluation.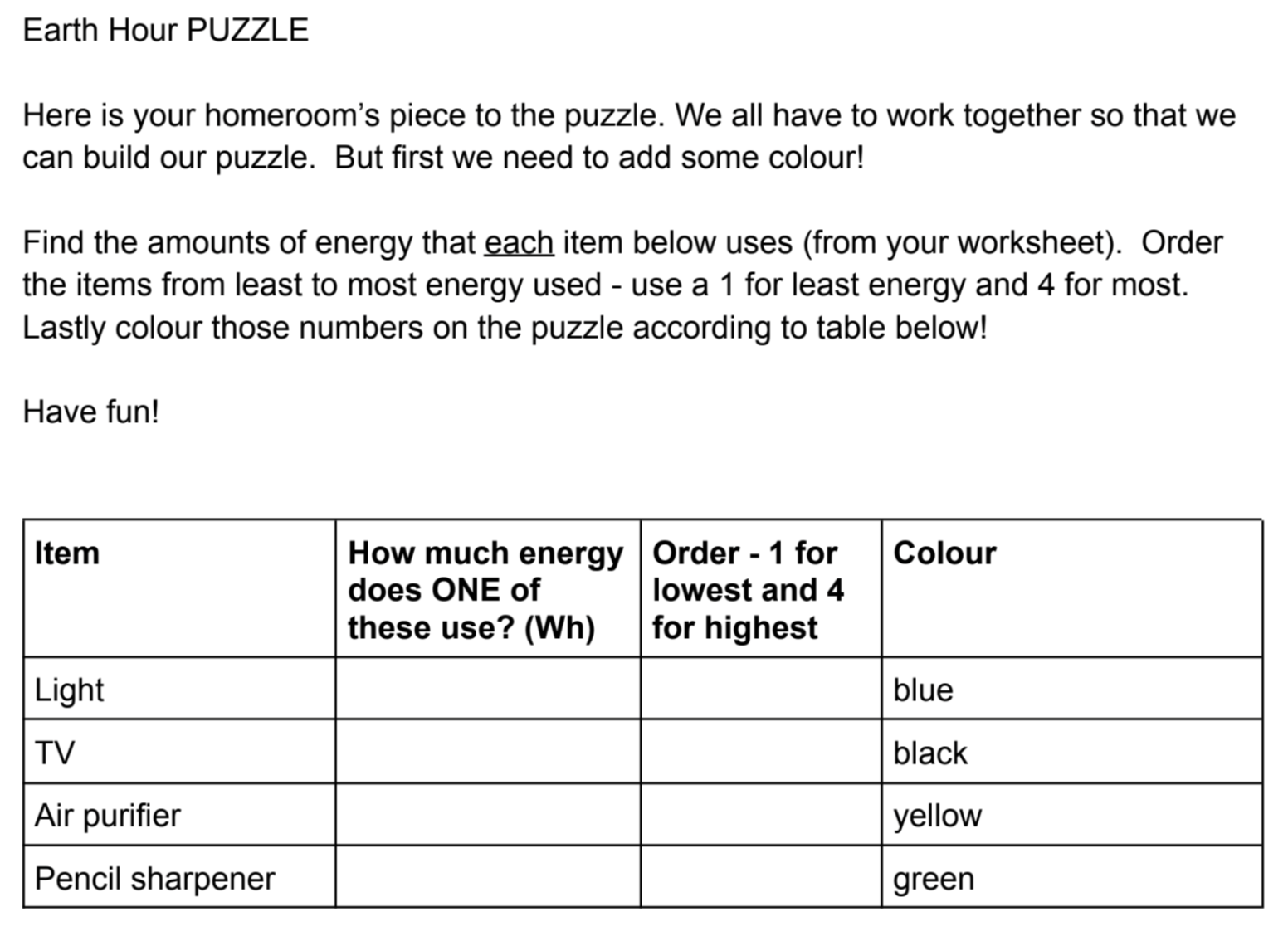 The What electricity have you used today? survey went beyond electricity use at school. It brought awareness to the fact that all energy use, including using toasters and air conditioners, have a cost by assigning each energy use action with an 'Energy Buck' cost. This creative awareness got students thinking about how they use energy in all aspects of their lives.

With their learning centred on climate change and how students can take action on this issue, one student sums up their learning with the following statement:
"It's important to conserve energy because it costs less and it saves resources - this impacts our very future! It's so easy to just keep our lights off or keep the school cooler - why wouldn't we do it?" - Davis M.
Honorable Mention
Port Elgin Regional School, Grades K-8
Port Elgin, New Brunswick
After participating in the Watt A Waste workshop, grade 6 and 7 students, Mya and Roxanne, were inspired to tackle the Energy Revealed Challenge with their school. After learning more about energy conservation and efficiency, Mya and Roxanne were determined to "teach Mariners we can conserve [energy] and and have fun and learn without it."
They began by borrowing handheld watt meters from the library and conducting an initial audit of all of the energy being used in their school. Creating an interactive Kahoot Game and a slideshow presentation, which they delivered to their peers, Mya and Roxanne educated their school community about energy efficiency and conservation. They printed off Earth Day colouring pages and provided them to classes as a tech-free activity to participate in during their Hour No Power event.

Promoting their event throughout the school, Mya and Roxanne encourages classes to head outside for the event and go tech-free for an Hour No Power. During the event, they turned off all the school lights and computers and unplugged any devices not being used. With all of their actions, they estimate they conserved over 1 kWh of energy, which is equivalent to over 260g of greenhouse gas emissions conserved.

The biggest take-away from the students at Port Elgin was to unplug devices they aren't using!
The entire school community had a blast learning outside and with tech-free activities during the event. The biggest take-away from the students at Port Elgin was to unplug devices they aren't using. Great initiative, leadership and hard-work demonstrated by the young energy managers, Mya and Roxanne!
Energy Revealed In Action
Celebrating the many different ways learners and educators from across Canada were engaged in energy efficiency and energy conservation through GreenLearning's Energy Revealed Program.
Learners Participated in a Classroom Workshop or Event
Educators Participated in a Professional Development Session
Student and Teacher Sessions Delivered
Turning Students Into Energy Managers: A Guided Learning Experience
This free learning series is based on GreenLearning's award winning program Energy Revealed. Including a 45 minute pre-recorded professional development webinar, a live, virtual classroom workshop to kick off learning and an energy kit complete with 5 watt meters, energy saving stickers and an energy activities binder, this free series is designed to give educators the knowledge, resources and materials needed to engage their students in using real-time energy data to make a positive environmental impact. We had over 85 educators and 2,800 students register to participate in the series this school year.

This opportunity was available for grade 4-12 educators and eco-clubs in select Ontario and Alberta communities.
Speak For The Trees & Get Outside
GreenLearning facilitated curriculum-connected classroom workshops that engaged and inspired students from across the world to think creatively about conserving energy and taking climate action. Click below to watch (or bookmark) an Energy Revealed classroom workshop for grades 4-12.
"Thank you so much [Facilitator]!! Your presentation was super captivating and educational. Very inspiring."
Grade 12 Participant from the Alberta Youth Council For Environmental Education
"We have had a great time doing the activity Speak for the Trees. My students enjoyed the video and going outside to measure the circumference of the trees."
Mme Armstrong, Grades 5/6, Ontario
Bargaining Over Classroom Energy Savings
While participating in an Energy Revealed classroom workshop, a group of exceptional elementary students from Peel District School Board made an interesting connection in their classroom. As part of their learning, they pay monthly 'classroom bills' for items such as renting their desk, purchasing goods from the classroom shop and even paying for their electricity and internet use.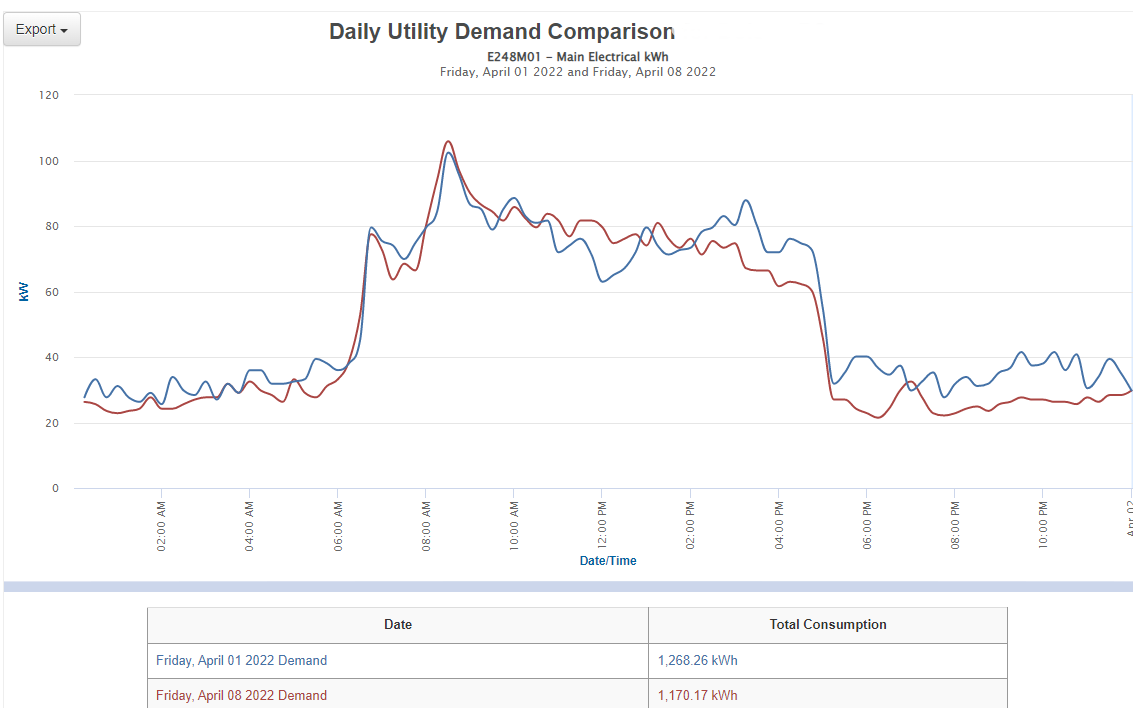 As the workshop progressed, students discovered how easy it can be to conserve energy. They also uncovered the many benefits of conserving energy, such as cost savings and positive environmental impacts. Applying these new discoveries, the class discussed and resolved that moving forward, if students took action to conserve energy in the classroom, they would be eligible for savings on their monthly classroom electricity bill. These students are learning first-hand how their actions impact other areas of their lives and the many benefits of being efficient with our energy use.
Making Energy Visible with Hands-On Learning
Innovating and learning about energy efficiency and conservation with students and educators across Canada at events, campaigns and conferences, such as; The 10Peaks Innovation Exchange, Learning For A Sustainable Future's Youth Forums, Earth Week events and more.
Pictured on the right: Alex Xanthoudakis, GreenLearning's Digital Media Specialist, using a watt meter to measure the power needed to run a laptop. She then demonstrated for the students at Collingwood School's Sustainability Fair how GreenLearning's
Energy Calculators
can be used to discover the electricity cost and the greenhouse gas emissions associated with their electricity use.
Empowering Educators To Tackle Energy Education
GreenLearning supported educator professional development through workshops at conferences, conventions, webinars and professional development days across Canada. We presented workshops, such as Energy 101, Preparing Students for Their Future Energy Careers, and Energy Revealed: A Program for Inclusive Energy Education. When asked why they registered for an energy learning opportunity with GreenLearning, one educator from Ontario said:
"I wanted to learn more about current and effective ways to teach about energy. I did not know the differences of environmental impact in Ontario vs Alberta for example."
Get updates about all of GreenLearning's challenges, events and new resources directly to your inbox.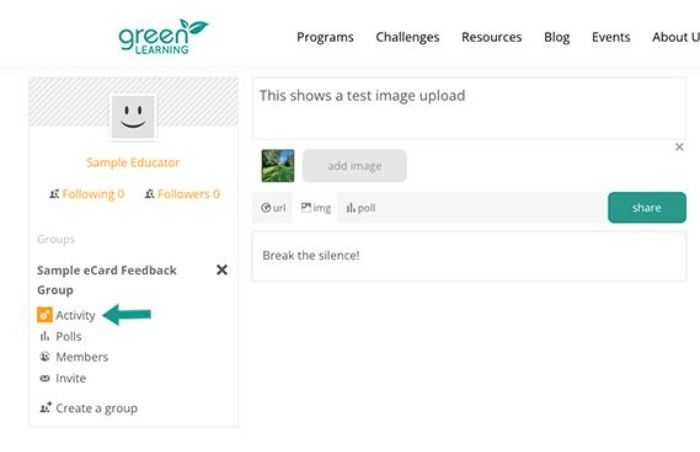 Activity link under private class group.