Eco 360
Transitioning to a Circular Economy
Introduction
The Eco 360 program enables youth to imagine a world without waste by closing the loop of a product's life cycle and creating a circular economy. Learners explore the origin of plastics, their use in our daily lives, how they end up in the environment as waste and how we can ensure that plastics are cycled back into the economy after their use and out of the environment to realize their full potential, while protecting our planet. The program challenges learners to actively engage in creating a circular economy by exploring innovative solutions for reducing, reusing, and recycling plastic waste.
RELEVANT TOPICS
environmental conservation; plastics; plastic pollution; chemistry of plastics; polymers; waste management; single-use plastics; circular economy; recycling; plastic in the environment; marine plastic; plastic in oceans; policy, stakeholder engagement; sustainable development goals; sustainability; climate change; Canadian climate policy; climate action;
Suitable for grades 3 - 12, for more information download the curriculum connections below:
APPLICABLE UNITED NATIONS' SUSTAINABLE DEVELOPMENT GOALS
Take the Eco 360 Challenge
We invite you to explore innovative solutions to the problem of plastic waste in our environment. Immerse yourself in hands-on learning by proposing a feasible innovation plan that incorporates a circular economic model, eliminating plastic waste from our environment.
The grand prize for the winning class is $1,000, the second prize is $500 and the third prize is $250.

Registration for the 2022-2023 challenge is now open.
Here's what teachers are saying about
Eco 360.
As a science teacher, I am always looking for ways to link aspects of the curriculum to current, real life situations, and the Eco 360 program makes it easier to do this. Particularly since different activities within the program can be directly linked to the curriculum in my province. I would use this program as an extension of the current curricular units, perhaps as a biweekly activity. It links well to outcomes about human impact, stewardship and the consequences of science and technology, which appear in most of the grade levels.
Madison Lehti
Science Teacher ~ Alberta
Special thanks to the wonderful professionals who contributed to this project:
Teachers
Jeffery Edward Mcdougal - High School Teacher at Trenton High School, Trenton Ontario
Sana Kaleem - Teacher in Training, Bachelors of Education, University of Ottawa
Madison Lehti - Teacher in Training, Bachelors of Education, University of Lethbridge
Kaitlyn McCormack - Teacher, Louis Riel School Division
Catherine Corkery - Teacher, Peterborough Victoria Northumberland and Clarington Catholic District School Board
Victoria Houle - Teacher, Renfrew County Catholic District School Board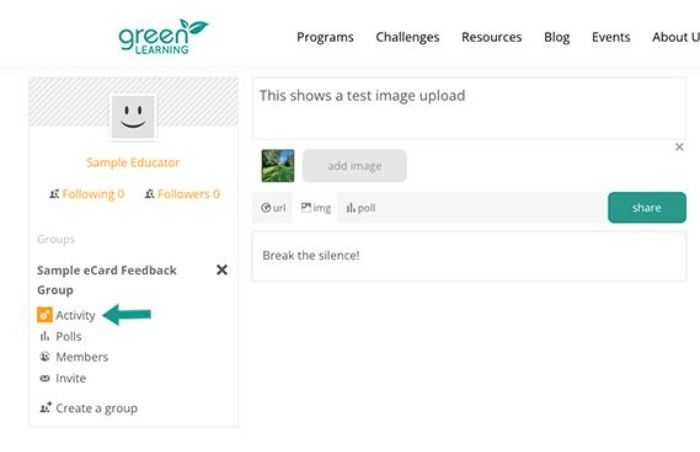 Activity link under private class group.