2022 Flood:ED Challenge Showcase
Actions For Flood Resilience
The Flood:ED Challenge
This challenge tasks learners with planning for or taking action to build flood resilience at home, at school or in their community. Through the activities and lessons in the Flood:ED Program, learners will explore extreme weather events and take steps to adapt to and mitigate these direct impacts of climate change.
Flood:ED In Action
Celebrating the many different ways learners and educators from across Canada were engaged in building flood resilience through the Flood:ED Program.
Learners Participated in a Workshop
Educators Participated in a Professional Development Session
Student and Teacher Sessions Delivered
Empowering BC Students Following A Major Flooding Event
When the devastating flooding events occurred in British Columbia, educators from across the the province reached out to GreenLearning for support in addressing their students' questions and concerns about flooding in their community. Armed with digital resources from GreenLearning's Flood:ED Program and a live virtual classroom workshop, students and teachers alike were able to develop their understanding of flooding events, explore the flood resilience of their school community and take action.
"I wanted students to hear about flooding from an outside perspective, as we had recently lived through a severe flood. Most of my perceptions are coming from that lived experience, so it helped to hear from another person. I feel that the Kahoot game got students thinking about what they did and did not know about the topic. They were ready to start exploring flood maps after getting a primer."
Sean Morden,
Grade 6 Teacher, British Columbia
"Thank you so much for all the support and for facilitating such a helpful and engaging lesson this week! The kids really loved it and had lots more questions and ideas that have been coming up! We are going to spend some time with the resources you sent out to us and I think this is going to be an inquiry focus for us this year!!"
Lauren Keen
Grade 4 British Columbia
Kick-Off To Earth Month: Designing a Sustainable Schoolyard & The World Water Day: Inspire Action
GreenLearning facilitated curriculum-connected classroom workshops that engaged and inspired students from across the world to build flood resilience. Click to watch (or bookmark) a Flood:ED classroom workshops for grades 4-8.
Empowering Educators To Tackle Flooding Education
GreenLearning supported educator professional development through workshops at conferences, conventions, webinars and professional development days across Canada. We presented workshops, such as Walking Tours: Where Traditional and Scientific Knowledge Meet at the Geographic Literacy: The Power of Storytelling Conference and Water if Life: Place-Based Climate Education at the Alberta Teacher Conventions. After learning about Flood:ED in one of GreenLearning's PD sessions, one educator said:
"I look forward to trying to implement some of the ideas in my outdoor ed class"
Get updates about all of GreenLearning's challenges, events and new resources directly to your inbox.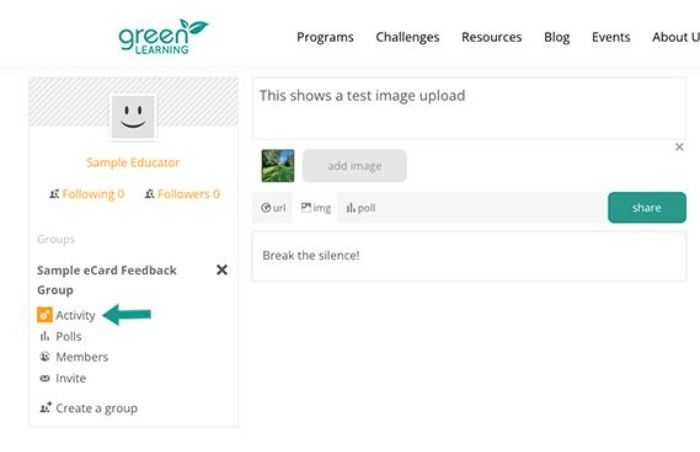 Activity link under private class group.