Partners
Climate Change Where I Live

The
Centre for Global Education
was a key partner in the Ontario Climate Inquiry and Dialogue initiative. Working with GreenLearning, CGE trained student leaders for the virtual town halls and designed desinged and facilitated the online events; the regional town halls; and the videoconference with the Glenn Thibeault, Government of Ontario. Terry Godwaldt is phenomenal and we couldn't have done it with out him; we echo the student tweets of "We love Terry!"
The Mission of The Centre for Global Education (TCGE) is to educate 21st Century students for a 21st Century world by providing global learning opportunities, enhanced through technology, informed by sound research and innovative teaching. Since 2006, over 150,000 students, from over 400 schools, in 30 different countries have participated in over 350 different conferences, making it the largest provider of real-time high school collaborative programming in Canada. Recent youth-voice initiatives include
Decarbonize
for COP21; Healthy Relationships and Bullying with the RCMP; Creating Spaces of Reconciliation for the Centre for Truth and Reconciliation; and, Climate Leadership with the Government of Alberta.

Our long-standing and fantastic partner,
TakingITGloba
l (TIG), developed the Commit2Act App that students used to track their personal actions to reduce their carbon footprint and to address climate change, and, worked with us to develop the project web-platform to support and showcase student work and dialogue with MoECC.
TIG is one of the world's leading networks of young people learning about, engaging with, and working to tackle global challenges. TIG's Vision is Youth around the world actively engaged and connected in shaping a more inclusive, peaceful and sustainable world. TIG's three operational pillars are digital youth engagement, global education and social innovation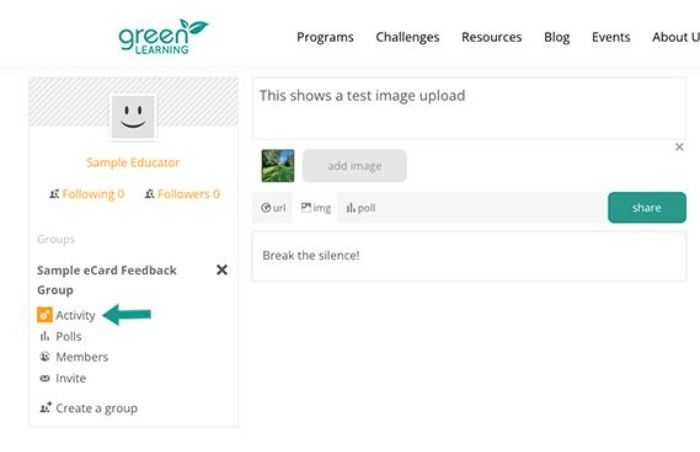 Activity link under private class group.