eCards Educator Resources

If you are an Educator who is signed in and cannot view the resources below, please email ecards@greenlearning.ca and we will update your account.
Educator Resource Area

This area is to guide educators through the ecards process. For more details please see the
Educator Guide PDF.
If you have any questions at any time please use the live chat function or email
ecards@greenlearning.ca
.
Taking learners through eCards
Learners create eCards in four steps. Depending on your approach, you can expect it to take 5 to 6 hours of class time for learners to create one eCard.

1. Select an Inspiring Research Topic (2-3 hours)
Learners first
create an account
on programs.greenlearning.ca and then visit the
eCards Landing Page
to get started. If your learners are not permitted to create an individual user account, you could register a single class account for all learners, using a specific email address they can access.

Learners can then choose a research topic by visiting our
eCard Research Topics
page. Learners can use the Spiral Inquiry activity to help them with their research if required.

2. Plan Your Messaging and Artwork (2 hours)
Alone or in small groups, learners consider what they want to communicate and to whom.
We have examples of what eCards have been produced before on our
eCard website
and
tools
the learners may want to use to create their graphics. These tools are just suggestions, they can create their artwork by hand or however they choose, as long as they have a .jpg or .png of the artwork for the eCard upload.
3. Share for feedback (1 hour)
When learners are happy with their eCard graphics and message they are ready for feedback. They can send you the artwork and message with classroom tools you already use (ie. Google Classroom, Teams) or conduct feedback discussions through private class groups. Instructions on setting up private class groups are below.

When their eCard artwork and message are ready to go they can move on to the Final Approval and eCard Send Phase!
Creating private class groups (Optional)

An optional step to providing feedback to your learners for their ecard is to create a private group for your class. If you have another preferred way to gather feedback from your learners feel free to skip this part and go to Step 4.
4. Sending to the Decision Maker(s)
After receiving feedback from you and/or your class, the learners are ready to send their eCard for Final Approval.The learners fill out the
eCard submission form
(
image
) with all the eCard details: Their first and last name (they can use initials if they want), their email address, your email address, their school, the eCard title, they will upload their artwork .jpg or .png, enter their message and the decision makers' email address as well as consent to have their eCard posted to our website.
Once submitted an email will be sent to GreenLearning Admin and to yourself for review. In your email there will be an '
Approval
' link and a '
Needs Edit
' link (
image
). If you spotted a change that needs fixing click the
Needs Edit
button (
image
) and enter your edit comments (
image
) then click Complete. Your comments will be sent in an email to the learner with a link to a submission form for them to make edits and resubmit. This will restart the approval process and you will get the approval email again to review.
Note: There is a comment box at the bottom of the form for your learner to write down and track any edits that have been done (image).

If the eCard is good to go you can
click Approve
(
image
) and then add a comment ie. Great Job (
image
) and click Complete. That comment will be emailed to your learner and also notify our admin to publish the eCard on the eCard website (if consent is given).
It will then move to the final email preparation to the decision maker. If GreenLearning admin sees anything that needs edits they will contact you and your learner. If good for final email, GreenLearning admin will setup the final email and CC your educator and BCC your learner (
image
).
Learners who agree to publish their eCard on GreenLearning's website will be covered under
Creative Commons / Attribution-NonCommercial 4.0
licensing as per
GreenLearning's Privacy Policy
.
What happens after an eCard is sent?
If you did get a response and GreenLearning wasn't copied, we want to know!
Please email us at ecards@greenlearning.ca and tell us. Likewise we will do the same.
If we don't hear from the decision maker we will contact them after 7 days.
If you published your eCard we encourage you to share it you'll see your link on our site has many different ways to share:
https://connect.greenlearning.ca/ecards
Review the Educator's Guide for more information and extension ideas.
Help us improve our eCard activity.
Please consider taking the survey linked below to send us meaningful feedback on eCards!

What worked and what didn't?

What would you like to see?

Thank-you!
Curriculum Connections
Alberta Assessment Rubrics
Ontario Assessment Rubrics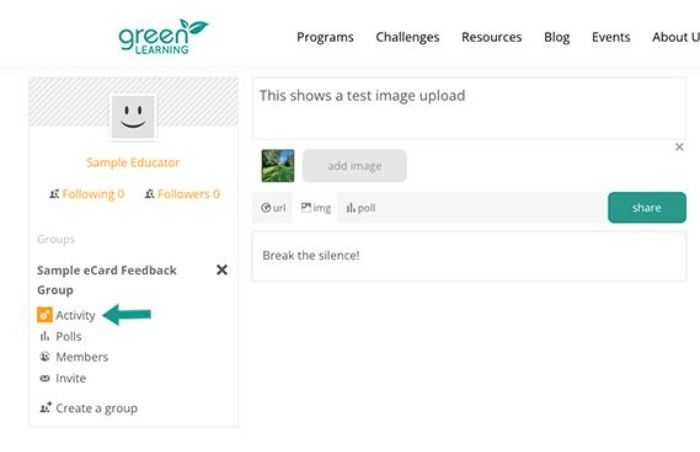 Activity link under private class group.