eCards Educator Resources

If you are an Educator who is signed in and cannot view the resources below, please email

[email protected]

and we will update your account.
Educator Resource Area

Considering using eCards? This area provides a high level overview of the eCards process from an educator perspective. We share the general steps for eCards, and link resources you may find helpful along the way.
For more details, please refer to the eCards Educator's Guide. If you have any questions, please use the live chat function at the bottom right of your screen or email us at
[email protected]
.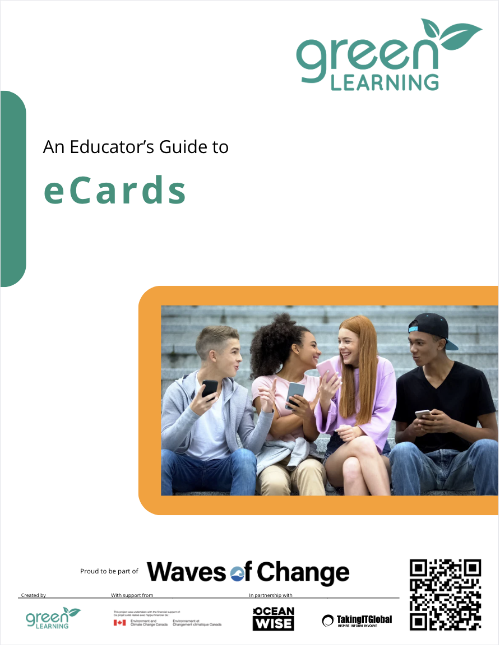 Guiding Learners Through eCards
Learners typically create eCards in four steps. Depending on your approach, you can expect it to take approximately 5 to 8 hours of class time for learners to create one eCard.

Create an Account (or Log In)
Learners first
create an account
on programs.greenlearning.ca and then visit the
eCards Landing Page
to get started.
If your learners are not permitted to create an individual user account, you could register a single class account for all learners, using a specific email address they can access.

Choose Topic, Research!
Learners can then choose a research topic by visiting our
eCard Research Topics
page. You may also want to encourage learners to consult other sources online, especially if their chosen topic isn't one of our developed research topics yet. Before diving in, we have a
blog post
about combatting climate disinformation you may be interested in reviewing with learners first!
Learners can also use the
Spiral Inquiry
activity to help them with their research.

Choosing an Audience
Alone or in small groups, learners consider what they want to communicate and to whom.


Writing a Message
The
Advocating Change Handout
and the eC
ards Educator's Guide b
oth suggest ways to lead the class in working through questions of audience, tone and online communication. However, this creation step of eCards can be as unique and tailored to your group as you want to make it. We've developed a
worksheet
that you can use as a resource to help learners develop their message.
For your convenience, the worksheet is also available as
a Google Doc
.


Imagery
We have examples of what eCards have been previously created on our
eCards website
and
tools
the learners may want to use to create their graphics. These tools are just suggestions - they can create their artwork by hand or however they choose, as long as they have a .jpg or .png of the artwork for the eCard upload.
When learners are happy with their eCard graphics and message, they are ready for feedback. This is a great opportunity to support or challenge students! It's also a flexible step; learners can seek feedback from you, or could practice giving peer feedback.

Feedback
Learners can send their draft eCard to you or their peers with digital classroom tools you already use (ie. Google Classroom, Teams), or with private class groups (explained below).

We believe in the importance of empowering youth to engage with topics they feel strongly about, with critical thought and evidence-based information. Your various learners may have unique and diverse perspectives, and we welcome their work. We also remind learners that:
Words hold power, and we hope your eCard can make a positive difference. We will not email or publish any eCards containing a message with discriminatory content, obscenity, or profanity.



Edit
Remember to schedule some time for students to receive their feedback and complete any edits they feel are appropriate. When their eCard is ready to go they can move on to the last step!
Creating Private Class Groups (Optional)

An optional step to providing feedback to your learners for their eCard is to create a private group for your class. If you have a preferred way to gather feedback from your learners, this step can be skipped.
After receiving feedback from you and/or your class, learners are ready to submit their eCard.
Your learners will need to fill out the
eCard submission form
with all the eCard details. This includes their school contact information, along with their artwork (uploaded as .jpg or .png), their message, and the decision-maker's email address.


On this form there is a section for learners to consent to have their eCard posted to our website, and emailed out. Learners may consent to either of these options, or opt out entirely.
Once the learner has submitted their eCard, an email will be sent to GreenLearning Admin and the approval process begins. There is a review step we complete, then you'll be notified by email to give final approval. Once you've approved the eCard, we will send it out or publish it, as per the learner's consent. For more details on this process, check out the Approval Process on page 14 of the eCards Educator's Guide.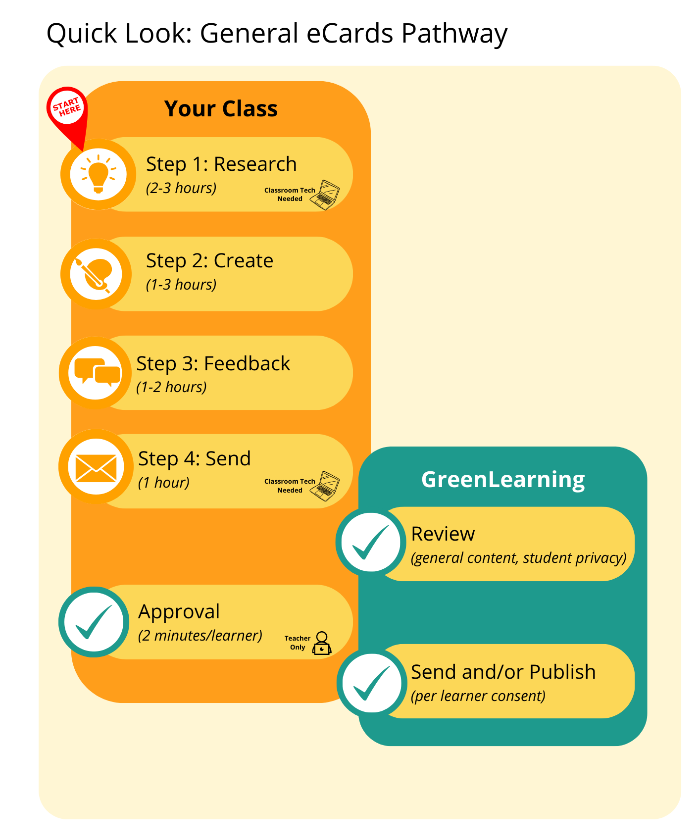 What happens after an eCard is sent?
If we receive a reply from the decision-maker, GreenLearning will send you a notification promptly so you can share the message with your learner. If you happen to receive a response and GreenLearning wasn't copied, we want to know! Please email us at
[email protected]
.
A published eCard can be shared again, in many ways! Check out the options at:
https://connect.greenlearning.ca/ecards
.
Help us improve our eCards activity!
We're always looking for ways to make eCards better. Please consider taking the survey linked below to send us meaningful feedback!

Are your learners looking for more ways to take action?
Explore the Educator's Guide for more information and extension ideas! We recommend trying out
Commit2Act
with your classroom to track the CO₂ impact and savings of your daily actions. Even small acts can have a massive impact when we work together!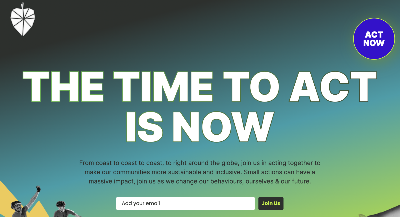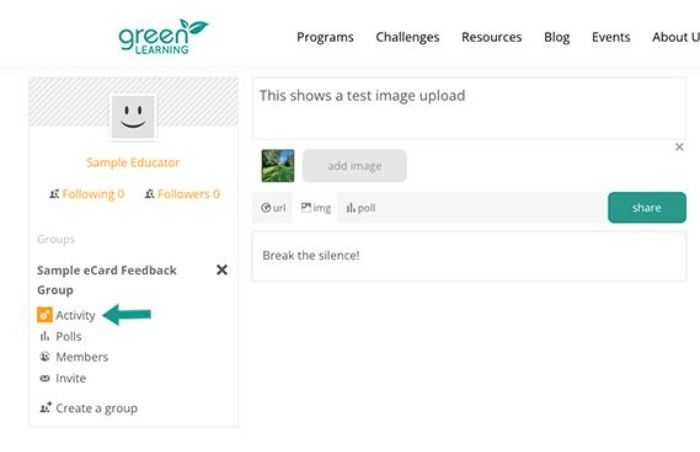 Activity link under private class group.